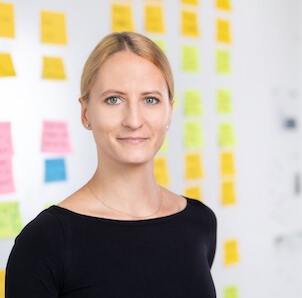 Kristin Bauermeister currently works as an Innovation Manager at Startup Colors, a small but mighty innovation agency based in Berlin. She is responsible for the IntellIot project – an EU consortium project driving the use of IoT, AI and 5G in the fields of healthcare, agriculture and manufacturing.
Previously, Kristin was involved in setting up an incubation program for young founders (Berlin Startup Stipend) and worked as an innovation manager in the lab of a waste management company. She also gained practical experience as a consultant at Joschka Fischer & Company and completed training as a design thinking coach. For Kristin, standing still is pure agony, which is why she feels quite at home in the innovation field.
Insights:
Kristin's backstory
Balancing being a parent and work
Stepping out of the comfort zone
How Kristin got into innovation
Kristin's first job
How Kristin sets goals when implementing an innovation
Kristin's life at the incubator
Kristin's advice to anyone who wants to join the innovation field
Work-life balance
Kristin's favorite books
Wrapping up questions.
Key Discussion Points:
[00:33] Getting to know Kristin
[02:28] What did Kristin first study?
[04:48] How Kristin coped with work and being a mom
[09:22] Stepping out of the comfort zone
[12:43] How Kristin pushed her career forward
[15:11] Why Kristin chose innovation
[17:16] Key points about innovation
[21:23] How Kristin found her first job
[25:47] Key learnings that Kristin got from working with SME
[28:11] How Kristin would implement innovation in a company starting from Scratch
[31:13] Goal setting
[35:30] Kristin's life at the incubator
[38:17] Kristin's next step after the incubator
[39:44] What is an open call?
[40:53] Kristin's advice to anyone who wants to be in innovation
[42:07] Kristin's journey to her current role as a woman
[46:20] Work-life balance according to Kristin
[48:08] Kristin's favorite books
[50:31] Kristin's advice to her 18 years old self
Interesting Quotes:
"Just because you get a child, does not mean that you stop to exist as an own person."

"Going out of your comfort zone is a good point concerning innovation as well to get better check back."

"Progress is my passion, and not the fashion."

"You can be innovative and do not talk about it. But it does not make sense for a company or for anyone else."

"But innovation is kind of a vehicle to transfer things from one point to another."

"It's the wrong way to implement an innovation lab and think that everything comes naturally; the culture shift and all that stuff."

"If you want to find a solution for a need, you have to be aware that it might be a disruptive solution as well."

"When you suggest something to a startup and it's implemented, and it doesn't work. You are more responsible than ever for your suggestions and ideas."

"If you want to do something, it's possible to do it. Sometimes not on the straightaway."

"Work life balance is not easy when you have a lot of interests."

"Be kind to yourself and don't put too much pressure on yourself – You are enough."
Book Recommendations: