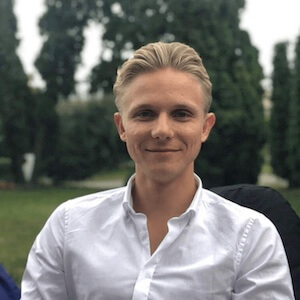 Vadim is a senior product manager at Omio, making sure people can conveniently book and enjoy their next trip around Europe. Vadim has been doing product management and product analytics for over 5 years between London and Berlin, working for onefinestay, Foodpanda and 8fit. Vadim started his career in investment banking at Barclays. He loves surfing, reading sci-fi utopias and making world a happier and more productive place.
Key Discussion Points:
[1:01] What is a product manager?
[2:16] The difference between an entrepreneur and a product manager
[10:15] What kind of problems do product managers solve
[16:30] How do you find the next problem to solve?
[22:53] Has your "fail fast and learn quickly" got you into trouble with
leadership?
[20:49] How to develop a data-driven mentality
[24:48] How do you get started learning to work with data
Summary:
They focused on driving growth through onboarding optimization and engagement. (0:44)
They had the freedom to choose their areas of focus within the organization. (1:40)
The interviewee emphasized the importance of being data-driven in decision-making. (2:47)
They discussed the need for an experimentation mindset and learning from failures. (4:46)
The interviewee emphasized the value of growth in their career choices. (5:59)
They expressed interest in analytics and personal growth as potential future areas of focus. (6:50)
Recommended books: "The Island" and "Brave New World" by Aldous Huxley, "1984" by George Orwell. (8:09)
Recommended spirituality books: "Inner Engineering" by Satguru, "Power of Now" by Eckhart Tolle. (9:36)
If they could talk to their 18-year-old self, they would advise to assume positive intentions in people and build meaningful relationships. (11:35)
Vadim emphasizes the importance of driving growth and making a significant positive impact in his career choices. (13:14)
He finds inspiration in science fiction, particularly utopias and dystopias, for shaping his worldview. He recommends books like "Island" and "Brave New World" by Aldous Huxley, and "1984" by George Orwell. (15:01)
Vadim also values personal growth and mindfulness, recommending "Inner Engineering" and "Power of Now" as valuable books in this area. (16:08)
If given the opportunity to speak to his 18-year-old self, Vadim would advise being more loving and assuming positive intentions in dealing with people. (17:32)
Interesting Quotes:
"I formulated the role of a project manager as: 'You are someone who make the future happen'"

"I realized I wanted to actually be a changemaker."

"You try to formulate the overall vision, where you want to go with your product within the area you're responsible for as a product manager."

"I usually follow this advice: 'You can't pick the company. You can't even pick the industry. You pick the manager…."

"With every error that you make, you want to next step to be more precise."

"Eighty percent of the hypotheses that you are stating will be wrong. You need to accept that."

"There is data, as in evidence, and there is technique to work with the data."

"My fundamental value in life is growth."

"I don't have a dream position. It's more about the work I do."

"I really want more people to be obsessed about personal growth."

"People are amazing."
Book Recommendations: