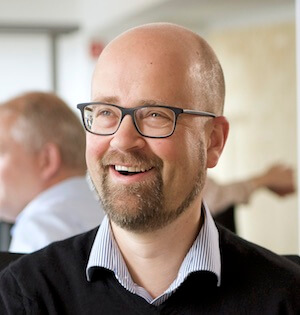 Since 2017 Jens Rieken is Head of Sparkassen Innovation Hub and responsible for developing digital product ideas for the German Savings Banks.
The mission of the hub is to identify new digital trends for financial services and enable start-up services to German Savings Banks (Sparkassen).
Before joining the German Savings Banks Group, he was product owner for companies like DB Systel, Gruner&Jahr.
He was CPO at Star Finanz and worked for a Hamburg based Start-up.
Insights:
• Finding good market fit for rapid innovation
• Testing and adapting ideas for innovation
• The two sides of market fit
• Work with customers during the innovation process
Key Discussion Points:
[0:06] Introduction of Jens
[0:40] What is innovation to you?
[4:09] How did you find the right customers? How do you find fintech's?
[9:35] How do you define product market fit?
[14:34] What are the different ways you test ideas
[14:45] Why do you emphasize testing?
[17:13] When do you stop testing?
[20:17] What did you learn from the process?
[23:52] What was the most interesting project you worked on?
[34:40] How do you make the future better for more people?
[32:34] Where do you see the finance sector in 5-12 years
Interesting Quotes:
"On the other side, I think market fit really has something to do with separating the customer base into tiny groups"

"…not everything is a honeymoon.."
Book Recommendations: